Disinfectants
News from Metrex on Disinfectants approved for Use against

SARS-CoV-2 Virus

:
The U.S. Environmental Protection Agency (EPA) has approved all eight surface disinfectant products made by an infection prevention leader, Metrex, as effective against SARS-CoV-2, the novel coronavirus that causes COVID-19. The new claim was approved based on third-party laboratory testing results that support Metrex's portfolio of broad-spectrum surface disinfectants to be effective against SARS-CoV-2 according to EPA Product Performance Test Guidelines Disinfectants for Use on Environmental Surfaces, Guidance for Efficacy Testing (OCSPP 810.2200)."Healthcare professionals find themselves working in rapidly-evolving and complex conditions that have increased the demands of infection control," said James Chia, Director of Research and Development at Metrex. "The below Metrex's surface disinfection products are effective against SARS-CoV-2, helping to give front-line workers peace of mind that our products are protecting their patients and themselves."
The following Metrex products have been approved by the EPA for efficacy against SARS-CoV-2 and are on the EPA list N for use against SARS-CoV-2:
CaviWipes™
CaviWipes1™
CaviWipes™ Bleach
CaviCide™
CaviCide1™
CaviWipes and CaviCide surface disinfectant products clean and disinfect hard, non-porous, inanimate surfaces and non-critical medical device surfaces in hospitals, laboratories and other clinical care environments. Formulated to kill a broad spectrum of bacteria, viruses and pathogenic fungi quickly and efficiently, CaviWipes and CaviCide branded products support kill times from one to three minutes.
CaviWipes & CaviWipes1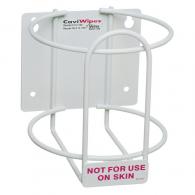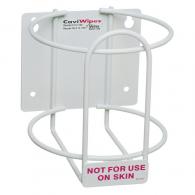 CaviWipes Canister Wall Bracket
CaviWipes and CaviWipes1 canisters can be easily mounted to the wall with this bracket to make them more accessible and visible.
CaviCide & CaviCide1
CaviWipes Bleach
Bleach Sprayer
Skin Usage