Formalex GREEN Formalin Disposal Neutralizer
(Liquid Neutralizer for Sink Disposal)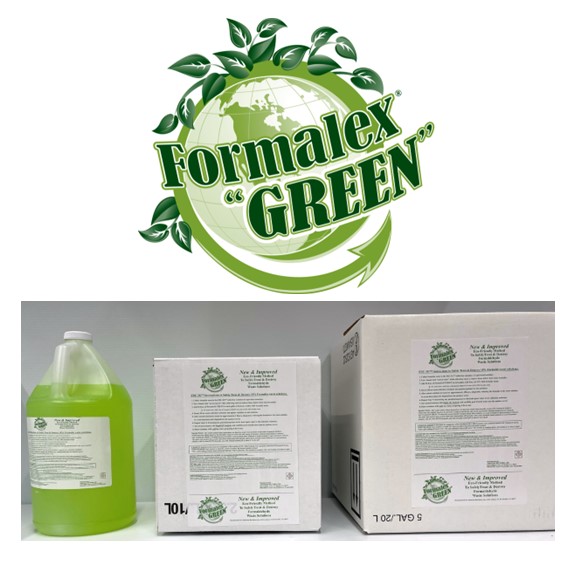 Liquid formalin neutralizer that easily and safely neutralizes formalin waste to a non-hazardous, non-toxic solution for sink disposal. The improved formula eliminates any sludgy residue and does not require any pH adjustment. It contains no phosphates and is non-vapor forming. Use spray bottle for easy clean up of small countertop or bench spills!
Prepare your formalin waste in minutes
Immediately eliminates formalin fumes
A proven safe liquid neutralizer since 1989

Significant savings vs. hauling formalin waste away
No Sludgy Residue
Contains No Phosphates
No pH Adjustment Required
(Ships Ground Only)
| | | | | | |
| --- | --- | --- | --- | --- | --- |
| SOLUTION: | 1 Gal Cube | 2.5 Gal Cube | 5 Gal Cube | 30 Gal Drum | 55 Gal Drum |
| Formalex® "GREEN" Formalin Neutralizer | Part ABFX-01 | Part ABFX-250 | Part ABFX-05 | Part ABFX-30 | Part ABFX-55 |
Additionally Needed:
For storage requirements and expiration date refer to individual product labels.
APPLICATION:
Newcomer Supply Formalex® "GREEN" Formalin Neutralizer is a multi-component, aqueous formulation which utilizes an organo-nitrogen based chemistry to effectively neutralize formalin waste products for sink disposal. 32 ounces of Formalex® "GREEN" will neutralize one gallon of 10% formalin or one gallon of 4% glutaraldehyde. Benefits include:
No pH adjustment of solutions is required.
Does not contain phosphates.
Non-vapor forming.
Formalin or glutaraldehyde can be neutralized in 4 hours to non-hazardous disposable solutions.
Neutralized aldehyde products can be safely discharged to sewer and waste water treatment systems.
No sludgy residue.
Formalex® "GREEN" recommended accessories to assist and complete the neutralization process.
1 Gallon or 2.5 Gallon Waste Collection Container
Funnel with Tissue Screen
32 Ounce Graduated Dispenser
pH Test Strips
NEUTRALIZING PROCEDURE:
Collect acceptable concentrations of aldehyde waste in designated well labeled Formalex® Green Waste Collection Container, 1 Gallon or 2.5 Gallon (ABFXG-1, ABFXG-25).

See Procedure Notes #1 and #2.
Use of Funnel with Tissue Screen (ABFX-FUN) is recommended to avoid extraneous tissue debris accumulating in aldehyde waste solutions.

Add 32 fluid ounces of Formalex® "GREEN" to each gallon (128 fluid ounces) of aldehyde waste. Or add 1 liter of Formalex® "GREEN" to 4 liters of aldehyde waste.

Use Formalex® Green 32 Ounce Graduated Dispenser (ABFXG-GD) for convenient measuring.
Refer to Page 2 for treatment calculation tables.

Securely tighten lid on collection container; agitate container to thoroughly mix solutions.

Do not add additional solution to collection container once neutralization process has started.

Allow mixed solution to stand for a minimum of 4 hours.

See Procedure Note #3.

Prior to re-opening, re-agitate container to thoroughly re-mix solution to decrease exposure to potential headspace vapor.
Test treated solution with Formalex® Green pH Test Strips (ABFXG-PH) to determine completion of neutralization reaction.

Reaction is complete with a pH reading at or above 5.5.

Pour neutralized non-hazardous aldehyde waste product into sanitary sewer.
Rinse collection container and clean with cold tap water before reuse.
PROCEDURE NOTES:
10% formalin (4% formaldehyde) and 4% glutaraldehyde are the highest concentrations that can be neutralized.

Formalex® "GREEN" should never be used to directly treat concentrated 37% formaldehyde for sanitary sewer disposal.

Maintain separate, well labeled collection containers for waste formalin and waste glutaraldehyde for best neutralization results.
To attain the lowest formalin residual, allow treated solutions to stand overnight or approximately 8-12 hours.
Confirm disposal methods with local and state regulations.
REFERENCES:
Bancroft, John D., and Marilyn Gamble. Theory and Practice of Histological Techniques. 6th ed. Oxford: Churchill Livingstone Elsevier, 2008. 22-23, 27.
Dapson, Janet Crookham, and Richard W. Dapson. Hazardous Materials in the Histopathology Laboratory: Regulations, Risks, Handling and Disposal. 4th Battle Creek, MI: Anatech, 2005. 181-186.
Modifications developed by Newcomer Supply Laboratory.
Calculating out how much Formalex Green you need:
Caution Statement and Special Notes:
Always wear chemical resistant gloves and eye protection when handling chemicals.
Follow all institutional and personnel safety guidelines when handling formalin solutions.
Read Formalex® Green Safety Data Sheet prior to use.
Formalex® Green should NEVER be used to treat 37% formaldehyde for sewer disposal.
Do not mix with chlorine type bleaches.
Follow all local, state and federal laws and regulations regarding formalin solutions.